UN: No evidence to support Israeli claims over Hezbollah arms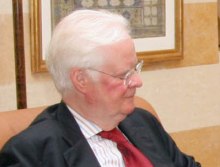 U.N. Special Coordinator for Lebanon said UNIFIL has found no evidence to support Israeli allegations about Hezbollah weapons cache south of Lebanon's Litani River.
"UNIFIL has found nothing to support these Israeli claims," Michael Williams, said in an interview with Al-Akhbar daily.
He denied that the use of cameras by UNIFIL in the South was the reason for tension, stressing that several issues contributed to the explosive situation, including the military presence among the population.
Williams said that trouble between U.N. peacekeepers and villagers in southern Lebanon is over.
On July 3, a UNIFIL patrol was attacked and overpowered by residents in the southern village of Kabrikha. Officials said the villagers, after one of them had been arrested, pelted UN troops and seized their weapons.
On June 29, residents attacked a UNIFIL vehicle between the villages of Adeisseh and Kfar Kila. The residents blocked a road and hurled stones toward a UN patrol during what officials termed a "maximum deployment exercise."
"It is incumbent on the Lebanese authorities to ensure the security and freedom of movement for UNIFIL within its area of operation," UNIFIL commander Maj. Gen. Alberto Asarta Cuevas said last week .
"I can confirm that the situation in the south is now much better, that I believe that calm and stability have been returned," Williams told reporters after briefing the U.N. Security Council.
The U.N. envoy said he and UNIFIL Commander had met Lebanese military officials and political leaders, including Hezbollah.
"In the course of those meetings, we heard that they would do everything possible to prevent a recurrence of those incidents,"
Williams said negotiations with Israel over the occupied village of Ghajar were "taking too long."
"We discussed in (the Security) Council new ways that we might approach that and I hope we can do so in the coming weeks," he said.