March 14: Only legitimate forces should handle security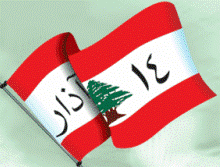 Lebanon's March 14 General Secretariat issued a statement on Wednesday saying that the incident at Beirut's Rafik Hariri International Airport proves that the security activities should be limited to legitimate forces only .
The statement stressed : "There should be a single security authority that has (state) legitimacy."
"The credibility of the state would be hit if things remain the way they are," the statement said.
The state would be seen "as incapable of carrying out its responsibilities, " the statement added
The statement continued: "The breach at Rafik Hariri International Airport proves once again that security cannot be split and that it can't be kept at a certain spot in isolation of its surroundings."
"The government must follow up with security, military and judicial procedures in order to contain the situation," the statement added.
The March 14 statement comes after the body of a 20 year old Lebanese was found Saturday on the landing gear of a Saudi jet aircraft .
Nas Air flight XY 720 took off from Beirut airport late Friday with 130 people on board and landed Saturday morning in the Saudi capital.
The person was officially identified by Justice Minister Ibrahim Najjar as Firas Haider . He lived in Burj el Barajnet near the airport , which explains the reason behind his ability to infiltrate the airport runways.