March 14 officials urge visa extension of Syrian activist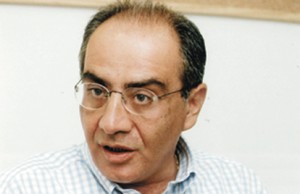 March 14 General Secretariat coordinator Fares Soueid and former MP Samir Franjieh called on Interior Minister Ziad Baroud to extend the residence permit of Syrian opposition activist , former MP Mamoun al-Homsi (Humsi) .
The two March 14 officials said in a joint statement that the General Security's decision not to extend his residence permit "contradicts with the principles of human rights," adding that Homsi has not violated the conditions of his stay in Lebanon.
The statement questioned how such a decision was taken shortly before Prime Minister Saad Hariri's visit to Syria on Sunday, which is aimed at further normalizing Lebanese-Syrian ties.
"Normalizing ties between Lebanon and Syria … demands protecting Lebanon's characteristics as a nation that respects human rights," the statement said.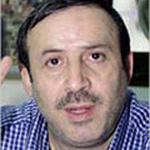 Homsi faces deportation
Homsi who was granted asylum on May 26 by UNHCR said Tuesday : " I went to the General Security bureau today to collect my passport, only to find the statement 'to travel by July 20, 2010′ was stamped on it."
Homsi was referring to the stamp of the Lebanese Internal security.
Homsi said that he went to the General Security bureau 2 months ago to renew his residency visa as is the case every six month but the way he was treated made him feel that things have changed in Lebanon . He added "my only option is to return to Syria ", where he "will certainly be jailed" for his political beliefs.
Homsi, 55, was arrested along with others in Syria on 9 August 2001 and jailed for five years after a short-lived "Damascus spring" of liberalization when President Bashar al-Assad first ascended to power 10 years ago.
Homsi was convicted of plotting "to change the constitution through illegal means."
He was released in January 2006 and has since lived in Lebanon with his wife and his youngest 2 sons.
UNHCR deputy representative to Lebanon Jean Paul Cavalieri confirmed that Humsi was accorded refugee status but said he "could not comment to third parties about individual cases."
Homsi said he went to the UNHCR office to inform them about the situation …they took photo copies of my passport , but did not tell me what action they will take.
In response to a question Homsi said " I do not see a reason for expelling me other than the recent Lebanese policy of openness towards Syria", adding: "Perhaps Lebanon should now amend its constitution and laws, that have made it an oasis of freedom and democracy in the Arab world."