Lebanon MP: Beirut airport is a mess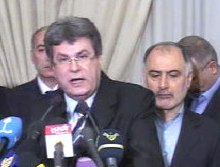 Free Patriotic Movement MP Nabil Nicolas told OTV on Monday that Beirut's Rafik Hariri International Airport is a mess, OTV reported on Monday.
"There is a problem at the Beirut airport …it is a security deficiency problem , " he said
His comment comes after after the body of a 20 year old Lebanese was found Saturday on the landing gear of a Saudi jet aircraft .
Nicolas said the airport's administration is not doing a good job. "If I were in the Interior Ministry, I would quit," he said, adding that security forces are corrupt.
Nicolas called for boycotting parliamentary sessions "until the fate of the $12 billion becomes known".
Security chief resigns
Brigadier General Wafiq Shoucair ( Shoukair) sent a letter on Monday to Interior Minister Ziad Baroud asking he be relieved of his duties as head of security at Rafik Hariri International Airport, the National News Agency (NNA) reported.
Observers that Ya Libnan spoke to found Nicolas ' criticism of airport security unusual and wondered if he checked with his boss, since Shoukair is reportedly closely associated with Hezbollah militants with whom Free Patriotic Movement MP Michel Aoun is closely allied.
Photo: Free Patriotic Movement MP Nabil Nicolas shown in a file photo with Hezbollah MP Mohammad Fneish ( R)