Israeli Military Finds Flotilla Killings Justified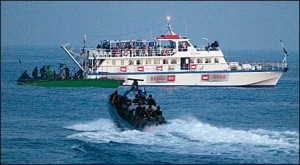 An Israeli military investigation into its naval takeover of a Gaza-bound flotilla six weeks ago found that it was plagued by errors of planning, intelligence and coordination but the killings of nine Turks on board were justified, according to an official summary of the findings released Monday.
Giora Eiland, a retired major general who led the probe, handed his classified findings to the military chief of staff; they were not released to the public. But a statement issued by the military said that the investigators faulted the military for not knowing who was on board one of the ships. A senior military officer involved in the report said that at least 65 Turkish Islamic militants armed with metal sticks and knives were on the main ship, and had vowed to fight any effort by the Israeli Navy to board. The scuffles that ensued led to Israeli commandos shooting the nine Turks, including one with dual American citizenship.
"The team concluded that not all possible intelligence gathering methods were fully implemented and that the coordination between Navy Intelligence and the Israel Defense Intelligence was insufficient," the report's official summary said. "The team also pointed out that the anticipated level of violence used against the forces was underestimated."
The investigators praised the commandos who rappelled onto the main ship from helicopters, saying that they "operated properly, with professionalism, bravery and resourcefulness." They called the use of live fire justified. No dismissals were publicly recommended, but officers said some demotions or dismissals might occur.
The military's investigation, carried out by eight officers, did not deal with larger policy issues like the legality or appropriateness of Israel's blockade against Gaza or its takeover of the six-boat flotilla in international waters on May 31st. A second probe, led by a retired Supreme Court justice and including two foreign observers, has just begun its work. Neither, however, seems likely to satisfy demands by the Turkish government of a full international investigation. Turkey has withdrawn its ambassador from Tel Aviv and issued threats of further steps unless Israel issues an apology and set up an international probe.
Everything that happened on board the Turkish flotilla six weeks ago remains a matter of controversy — who shot first, how aggressive the passengers were, how violent the commandos became, whether the action was justified in international waters. The cargo proved unquestionably humanitarian in nature — hospital beds, medicines, clothing — but the goal of the flotilla was to challenge Israel's authority over what goes in and out of Gaza.
Mr. Eiland, a former national security adviser, said in his briefing that more ships may try to breach Israel's Gaza blockade and so lessons from what happened on the Turkish flotilla were important.
In fact, a Libyan vessel arrived in the area of Crete on Monday with its crew saying it was scheduled to reach Gaza on Wednesday. Israeli officials have vowed to prevent it from getting through.
Israel created a blockade against Gaza, both by land and sea, three years ago, after Hamas, which had won elections the previous year, took full control of the Palestinian coastal strip. The goal of the blockade was to pressure Hamas, which rejects Israel's existence, had taken captive one of its soldiers and was firing crude rockets at its southern communities. Israel has thousands of Palestinian prisoners in its jails and also targeted Hamas leaders and militants.
The blockade, joined by Egypt, has suffocated the Gazan economy and barred people from coming and going except in medical emergencies although food has always been let in. Following the takeover of the flotilla and the deaths on board, international pressure forced Israel to ease the land blockade. Now the blockade is largely limited to the sea and to materials, like steel, that Israel fears could be turned by Hamas into weapons. There remains, however, intense international opprobrium because of the suffering of ordinary Palestinians in Gaza and the sense that the policy has done little to weaken Hamas.
Mr. Eiland's report found that there was at least one gun on board because an Israeli soldier took a bullet in the knee that was not from an Israeli weapon. It also contends that Israeli soldiers most likely fired only after having been fired upon first.
"All the shooting was either when the soldiers were in immediate danger of their lives or when they had to rescue fellow soldiers," a senior official involved in the probe said, speaking under military rules of anonymity. He added that there were between four and six events in which Israeli soldiers were fired upon with live fire by those on board.
Passengers aboard the flotilla have mostly told a very different story, with some witnesses accusing the commandos of shooting randomly as they came aboard. NYT