Gemayel, Aoun held a secret meeting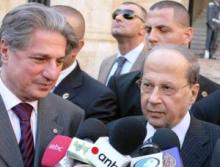 Lebanon's former president and Phalange Party leader Amin Gemayel held secret talks with Free Patriotic Movement leader Gen. Michel Aoun, Al-Hayat newspaper reported on Monday.
It said the secret meeting apparently came after recent reports said that Gemayel has launched a drive for political reconciliation with Aoun.
the location of the meeting was not revealed
Al-Hayat said Gemayel aims at finding common ground with Aoun in order to create a favorable climate for cooperation, at least in the 2013 parliamentary elections.
Gemayel also met today with the Head of Future Movement Parliamentary Bloc ,former PM Fouad Seniora at the Phalange Party Headquarters in Saifi
Photo:File picture of Lebanon's former president and Phalange Party leader Amin Gemayel (L)  with Free Patriotic Movement leader Gen. Michel Aoun (R)