Libyan aid ship headed for Gaza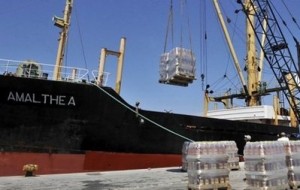 A Libyan-sponsored aid ship is preparing to sail to the blockaded Gaza Strip with tonnes of humanitarian goods, despite warnings from Israel that it reserved "the right under international law to prevent this ship" from reaching its destination.
The Moldovan-owned ship was being checked by Greek officials on Saturday before being allowed to leave the Lavrio Port, in southeastern Greece.
Al Jazeera's Khalid Al-Deeb, accompanying the Al-Amal, said from Athens that the ship would leave for Gaza from Greece on Saturday morning and was expected to take 70 to 80 hours to reach Gaza.
The captain of the ship, a Cuban national, has told Al Jazeera the he plans to set sail for Gaza shortly.
This contradicts a statement from the Israeli foreign ministry, which claims to have reached an agreement with Greece and Moldova to have the ship land in Egypt rather than Gaza.
However, the ship is private property so governments in Greece or Moldova cannot force it to sail to Egypt rather than Gaza.
Yousseuf Sawani, a director of the Gaddafi International Charity and Development Foundation that organised the aid ship, said that it was "loaded with about 2,000 tonnes of humanitarian aid in the form of foodstuff and medications".
The charity is headed by the son of Muammar Gaddafi, the Libyan leader, and is carrying "a number of supporters who are keen on expressing solidarity with the Palestinian people in the plight amidst the siege imposed on Gaza".
"We are doing what we can, this is our responsibility. If everyone just hangs back and says the Israelis will not allow this nothing will happen and the people of Gaza will continue under starvation," Sawani said.
Weapons threat
Shahar Arieli, an Israeli foreign ministry spokesman, told Al Jazeera that Israel could not permit the vessel to reach Gaza because it may actually be transporting weapons for Palestinian fighters in the coastal territory.
"If there is a desire to send products to the Palestinians, these can be delivered to Israel and [in] this way, we can make sure that there are no weapons," Arieli said.
"Nobody knows what is on the ship. If there is humanitarian aid, this can be sent through Israeli border crossings to Gaza."
But Abdal Raof Jaziri, a volunteer on the aid ship, said that they were all peaceful volunteers trying to help the Palestinians.
"We have nothing in the ship except rice, oil, tomatoes, flour, that's all what we have. We don't have weapons, we don't have guns. We don't even have small knives or nothing because we come for peace to help," he said.
The 92-metre ship, renamed Al-Amal which means "Hope" in Arabic, has a 12-man crew and will carry up to nine passengers, a representative of Piraeus-based agents Alpha Shipping said.
The Israeli foreign ministry said earlier that Avigdor Lieberman, the foreign minister, "spoke several times in recent days with the foreign ministers of Greece and Moldova" to try and convince them to not let the aid ship sail.
Gabriela Shalev, Israel's UN ambassador, also sent a letter to Ban Ki-moon, the UN secretary general, asking that the international community intervene to prevent the ship approaching Gaza, the Haaretz newspaper reported.
"Israel reserves the right under international law to prevent this ship from violating the existing naval blockade on the Gaza Strip," it said.
Israeli armed forces attacked a flotilla of aid ships trying to break Israel's blockade of Gaza on May 31, killing nine activists on the Turkish Mavi Marmara.
Amid increasing international condemnation after the raid, Israel has begun easing the blockade on the Gaza Strip by allowing in some previously banned items, but still maintains a naval blockade, prevents the export of goods or people over land, and controls the territory's airspace.
Construction materials to repair extensive infrastructure damage suffered during Israel's war in Gaza in December 2008-January 2009 are also heavily restricted.
Al Jazeera and agencies