US pressure could shift from Netanyahu to Abbas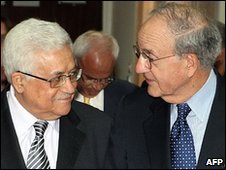 It's an axiom of Arab-Israeli peacemaking that the new rapport between President Barack Obama and Prime Minister Benjamin Netanyahu would leave Palestinians in an awkward spot.
After the Obama administration pushed Mr. Netanyahu over the past year to rein in West Bank settlements, there are signals in the wake of Netanyahu's White House visit on Tuesday that US pressure could shift to Palestinian President Mahmoud Abbas.
Mr. Abbas has refused to engage in face-to-face peace talks with the Israelis without a permanent freeze on Jewish settlements in the West Bank and East .
Jerusalem, but Mr. Obama may now ask him to compromise on that point.
"People are upset…. We doubt the potential to change Israeli policy regarding the peace talks, regarding the settlements, and lifting the curfew in Gaza," says Nashat Aqtash, a communications professor at Bir Zeit University in the West Bank. "They are going to put pressure on us, not the Israelis, to start direct negotiations without any assurances.… We are starting negotiations without anything."
Palestinian officials held firm following the meeting, insisting that Israel's 10-month building moratorium must remain in place and that Netanyahu must be more forthcoming about a deal on borders and security. While Palestinian analysts and columnists were disappointed that Obama seemed more friendly toward Israel, a government spokesperson said this was not a surprising development.
"Palestinian officials are aware of the nature of Israel-American relations, and they don't expect a break," says government spokesman Ghassan Khatib. "The problem is that in the indirect talks, the Israelis didn't show any seriousness at all. We presented full-fledged negotiating proposals on these two issues – borders and security – and the other side didn't bother to present anything or react to our proposals."
Palestinians don't see gaps narrowing
Despite a White House statement about having "narrowed gaps" between the Israeli and Palestinian position, and Obama's declaration that Netanyahu is serious about negotiating peace, the Palestinians say there's been little change, says Mr. Khatib.
The Palestinians reportedly have agreed to land swaps to allow Israel to annex some settlements, and to an international security force in the West Bank. Israel has said that until it enters direct talks, it won't get to the heart of the issues that would constitute a peace deal.
Though Palestinian officials said they have yet to be briefed on the substance of the summit, the images from Washington did not make a good impression on Palestinian columnist Abdullah Awwad.
"There are those who navigated in Obama's waters to discover that the winds blow from Netanyahu's direction," he wrote in the Al Ayyam newspaper. "The recent meeting between Netanyahu and Obama has shown clearly that a Palestinian State will not be served on an American tray and the Palestinians should have learnt that no one will prepare the dish they like to taste except themselves."
To be sure, Obama said that he now expects Netanyahu to make gestures to the Palestinians as a sign of Israeli seriousness, and also to tamp down the building activity that undermines confidence in the peace process.
By Joshua Mitnick,