UNIFIL chief: We are here to restore security, stability for the people of south Lebanon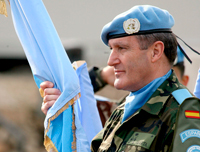 In an "Open Letter" to the residents of south Lebanon , in reference to their recent clashes with the UN peacekeepers , UNIFIL Commander Maj. Gen. Alberto Asarta Cuevas wrote Thursday:
"We came here from our distant countries at the invitation of the Lebanese government to perform specific tasks requested by the government and authorized by the U.N. Security Council with the aim of restoring security and stability for the people of south Lebanon."
"In the name of peace and the United Nations, which all of us are proud members of, let me enter into your lives and take some minutes from your valuable time in order to share with you my thoughts. I would like to express my feelings on what UNIFIL is doing in Southern Lebanon, how we do it and why," Asarta said
"As a peacekeeper, as a soldier, as a man of peace, as a person who deeply loves this people, I would like to address some words to you in a spirit of total sincerity from the most profound depths of my heart. It is in our hearts that we share the strong human bond that has developed between us peacekeepers and you the people of south Lebanon through all these years of wars and destruction that we have suffered together, and it is in our hearts that we feel the pain of anything that goes contrary to this relationship we so cherish. I want to speak directly to you, without intermediaries, so there are no misunderstandings, no manipulation, no misled interpretations, through this open letter reaching you through Lebanese media."
The UNIFIL chief called on the residents to tackle "the problems military operations in civilian areas may cause" by "directly" discussing them with UNIFIL, "not by obstructing the work of peacekeepers or by beating them."
"All UNIFIL personnel operate under my command and they have received strict orders to undertake the assigned mandate with full respect for the culture and traditions of the population that is hosting us; full respect for private property; full respect for the privacy of daily life in the streets of the villages; full respect for the desire of the population not to be photographed.
"Our soldiers have received clear orders not to take pictures unless absolutely necessary for operational reasons; clear orders not to use tracked combat vehicles where there is possibility of damage to public or private infrastructure; clear orders to repair any damage so done and to talk to the local authorities and the communities to clear any misunderstanding that may arise from our actions."
The UNIFIL commander voiced pride "that the last four years have been the calmest period southern Lebanon has seen in many years."
"It is not only me saying that, I have heard it from the Lebanese authorities too. And you can see it in the new infrastructure that is being built, as well as the new small businesses growing all along this area, " he said
He stressed that coordination with the Lebanese authorities does not imply that "every one of the 350 daily patrols that UNIFIL does can be physically accompanied by the Lebanese army."
"Sometimes these activities may cause some disturbances, but in any case there will never be any hidden agenda behind those actions. Our presence in Lebanon, far from our homes, has no other purpose than helping you to live in peace, contributing with all our means to your protection and the stability of the area." Naharnet