Lebanon: so hot right now
Soaring economic growth, relative calm on its southern border and a truce between rival politicians is translating into a Lebanon tourist boom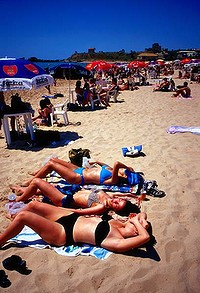 Two years ago, Lebanon was reeling from a crisis which brought gun battles onto the streets of Beirut, forced its airport to shut, and threatened to pitch the tiny Mediterranean country back into civil war.
Fastforward to 2010: Soaring economic growth, relative calm on its southern border with Israel and a truce between rival politicians have given crisis-ridden Lebanon a window of stability which it is translating into a tourist boom.
Tourism Minister Fadi Abboud said he expects 2.2 million tourists to visit this year, up 25 per cent from last year's record, when the sector contributed a quarter of GDP.
Already Arab Gulf tourists fill the capital's five-star hotels, their gas-guzzling Hummers choke Beirut's narrow streets and their Asian staff struggle to carry dozens of shopping bags emblazoned with the names of top international brands.
Beaches brim with bikini-clad, tanned women and come nighttime, clubs host Europe's top DJs who play to audiences of thousands, many of whom are flush with cash from jobs abroad and are happy to spend hundreds of dollars on food, drink and music.
Forty per cent of this year's tourists are expected to be Arabs, another 40 per cent Europeans and the rest from other parts of the world.
"People are in love with this country," Abboud said in an interview last week. "I'm expecting a very, very good summer. Probably the best in our history."
The ever-present threat of war with Israel, which waged a 34-day conflict against Lebanon's Hezbollah in 2006, does little to dent Abboud's enthusiasm. "Certainly, security is very, very important but even after the war, the day the war finished, people started coming back again," he said.
Prime Minister Saad al-Hariri's government has also pledged to implement reforms, from privatisation to slashing debt, and the IMF predicts another year of economic growth of 8 percent.
"BRAND LEBANON"
Lebanon's resilience and ability to rebound from crises is what encourages many people to visit and spurs investors to pour millions of dollars in real estate projects, one of the country's biggest money-making sectors.
Just a week after feuding Lebanese leaders sealed a political deal in 2008 to end 18 months of conflict, restaurants had re-opened, hotel bookings soared and tourists replaced gunmen on the streets of Beirut.
Now its skyline is dotted with cranes working to build multi-million dollar skyscrapers and five-star hotels.
The influx of cash is also apparent in lavish schemes. For $250 per person, a crane will lift you and 21 others 50 metres above ground to enjoy dinner while taking in Beirut's sights. Just want to watch the sunset? That'll be $120.
Gordon Campbell Gray, who opened the luxury Le Gray hotel in Beirut's downtown Solidere district late last year, said his occupancy rate was well above 90 percent.
"Since the day we opened, we've been absolutely packed," he said at an economic conference.
When he decided four years ago to open the hotel "everyone thought I was crazy, but it's really spectacular. It ended up being one of the busiest hotels in our portfolio," he said, adding he was building a beach resort south of Beirut and considering another project in the mountains.
His hotel, with a rooftop swimming pool, a cigar bar and espresso machines in the 87-room, yellow-stoned structure, is attracting first-time visitors from Europe.
Asked why they would still come and pay $400 a night for a deluxe room when Europe is suffering from a financial crisis and falling euro, Gray says:
"Brand Lebanon — the people, the resilience of the Lebanese people … They have a spirit, unique which I know has come out of their history."
"GROWING LIKE MUSHROOMS"
Glitz, glamour and decadent riches aside, Tourism Minister Abboud is quick to point out that he wants to change the image that Lebanon is "the country of only millionaire tourists".
Lebanon boasts spectacular sights where hundreds of dollars need not be spent — including mountain trails, the subterranean lakes and caves at Jeitta grotto and the Roman ruins of Baalbek.
While many restaurants charge top dollar, hundreds of more modest outlets offer Lebanon's famed mezze, or small dishes of salads, dips and raw meat.
"They (restaurants) are growing like mushrooms, by the end of this summer there'll be 8,000," from last year's estimate of 7,000, Abboud said. There are also 10 international music festivals and about 100 local ones, mostly in the open air.
Even renewed tensions after Israel accused Syria of supplying Hezbollah guerrillas with long-range Scud missiles have failed to dent the optimism.
Abboud's peeves at the moment are that Beirut's airport is not a smoke-free zone, weeds grow along the runway, and taxi drivers try to extort exorbitant prices from passengers.
As for a war? The only one Lebanon has been fighting with Israel in recent months is what has come to be known as the "hummous wars" — with each country vying to hold the record for the biggest plate of hummous ever created.
A month ago, Lebanon triumphed with a 10 tonne plate of hummous. But as in other recent battles between the two hostile neighbours, an Israeli retaliation cannot be ruled out. BrisbaneTimes