Lebanon ready to deploy more troops in UNIFIL's area, says DM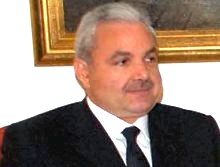 Lebanon's Defense Minister Elias Murr said just before entering the cabinet meeting on Thursday evening, that he is ready to increase the number of Lebanese army troops in UNIFIL's area of deployment if needed.
Murr added that such a decision did not need cabinet or UNIFIL approval.
Also before entering the cabinet, Information Minister Tarek Mitri said that he expected the upcoming UN Security Council session to affirm the principle of coordination between the Lebanese army and UNIFIL and commitment to UN Security Council Resolution 1701.
In a related development the U.N. Security Council has approved a French request for an emergency meeting on Friday to discuss the latest clashes between UNIFIL troops and residents in southern Lebanon.
On July 3, a UNIFIL patrol was attacked and overpowered by Shi'ites in the southern village of Kabrikha. Officials said the villagers, after one of them had been arrested, pelted UN troops and seized their weapons.
On June 29, Shi'ites attacked a UNIFIL vehicle between the villages of Adeisseh and Kfar Kila. The Shi'ites blocked a road and hurled stones toward a UN patrol during what officials termed a "maximum deployment exercise." The exercise, meant to ensure troop readiness, was said to have ended on the following day.
"It is incumbent on the Lebanese authorities to ensure the security and freedom of movement for UNIFIL within its area of operation," UNIFIL commander Maj. Gen. Alberto Asarta Cuevas said last weekend.
Hezbollah was blamed for the attack but during a press conference Wednesday, Parliament Speaker Nabih Berri denied that , Hezbollah, and residents of South Lebanon are targeting, UNIFIL or UN Security Council Resolution 1701