Syria jails a 79 year old activist for 3 years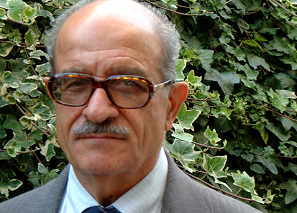 A Syrian military court today sentenced a 79-year-old lawyer and human rights activist, who campaigned for decades for an end to emergency law, to three years in prison on charges of "weakening national morale", defence lawyers said.
"This is tragic. Haitham Maleh is an old and ill man," one lawyer said, while another feared that he would not survive the whole sentence.
Maleh, who spent six years as a political prisoner in the 1980s and was banned from leaving Syria, in 2006 was awarded the Geuzen medal, named after Dutch resistance fighters against the Nazis.
The Syrian Human Rights League called Maleh's sentence "harsh and unjust" and numerous international organizations and western governments called for his release. Damascus has intensified a campaign of arrests of political opponents over the last two years.
Mike Hammer, a spokesman for the US national security council, said: "We join the international community in condemning the recent decisions by the Syrian government to convict and sentence human rights lawyers."
He said the decisions were part of a "worrying trend" of actions against lawyers and activists. He also condemned the re-arrest of Ali al-Abdullah, a writer and political prisoner who was released on 23 June but sent back to prison a day later for an article criticizing Syria's ties with Iran.
Amnesty International also condemned the sentence, describing Maleh as a prisoner of conscience. "He should not have been put on trial in the first place, let alone shut up behind bars at the age of 78," said Philip Luther, its deputy director for the Middle East and North Africa.
Maleh was arrested last year after he stepped up criticism of corruption and the emergency law, which was imposed by the ruling Ba'ath party after it took power in 1963, banning any opposition.
His sentencing came two weeks after Mohannad al-Hassani, a 43-year-old lawyer, was also jailed for three years on the same charges. "Mohannad is young and can take three harsh years in jail. The chances that Maleh can live through them are slim," another lawyer said.
The president of the International Lawyers Union, Corrado de Martini, appealed to Syrian officials at a legal conference in Damascus in April for Maleh's release.
Putting him in prison showed disregard for his pursuit of justice and for his ailing health, said Martini.
Ten days ago the US called on Syria to free Maleh, Hassani and Abdallah.Abdallah was among 12 people arrested in 2007 after they tried to revive the Damascus Declaration, a rights movement named after a document signed in 2005 by opposition figures which demanded that bans on freedom of speech and assembly be lifted and emergency law abolished.
Despite the wave of arrests, Syria has enjoyed international rehabilitation after years in isolation owing to disputes with the west over Syria's role in Lebanon and Iraq, and its support for militant groups.Guardian