Berri: Amal, Hezbollah not targeting UNIFIL or 1701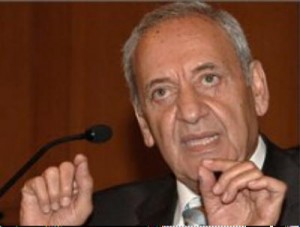 In a press conference Wednesday, Parliament Speaker Nabih Berri said that the Amal Movement, Hezbollah, and residents of South Lebanon are not targeting UN Security Council Resolution 1701 nor UNFIL..
MPs who spoke today privately with Berri quoted him as saying that no one has an interest in what is going on in the south. There is only an Israeli interest, he reportedly said.
UN officials said last weekend the patrols by the UN Interim Force in Lebanon have been banned from several Shi'ite villages in the south. They said Shi'ites have been attacking UNIFIL patrols in what appeared to be organized by the Iranian-sponsored Hezbollah.
"Some of these may have been something spontaneous in the street, but some were clearly organized," UN special coordinator for Lebanon, Michael Williams, said last weekend
On July 3, a UNIFIL patrol was attacked and overpowered by Shi'ites in the southern village of Kabrikha. Officials said the villagers, after one of them had been arrested, pelted UN troops and seized their weapons.
This marked at least the second attack on a UNIFIL patrol in less than a week. In both cases, the Lebanese Army, which eventually recovered the UNIFIL weapons, refused to intervene.
On June 29, Shi'ites attacked a UNIFIL vehicle between the villages of Adeisseh and Kfar Kila. The Shi'ites blocked a road and hurled stones toward a UN patrol during what officials termed a "maximum deployment exercise." The exercise, meant to ensure troop readiness, was said to have ended on the following day.
"It is incumbent on the Lebanese authorities to ensure the security and freedom of movement for UNIFIL within its area of operation," UNIFIL commander Maj. Gen. Alberto Asarta Cuevas said.
According to observers south Lebanon is Hezbollah's stronghold and the militant group wanted to send a message through these protests that it is still in control.