Fadlallah's health condition worsens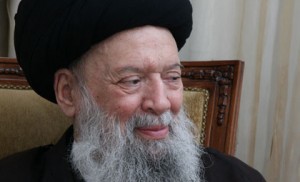 Grand Ayatollah Mohammed Hussein Fadlallah's health condition worsened . He has reportedly suffered from internal bleeding again on Saturday, medical sources told reporters Saturday.
Bahman hospital was urging donors to give B+ and B- blood donations on Saturday. However, it was not clear if the blood was meant for Lebanon's top Shiite cleric .
Last night Lebanon's minister of health Mohammad Jawad khalife told An Nahar that Fadlallah's health condition "was very critical when he was admitted to the hospital but has later stabilized stable and we hope he would get better soon."
Fadlallah's media office reported that he was visited by many dignitaries at the hospital including State minister Adnan al Sayyed Hussein, representing Lebanese President Michel Suleiman, deputy secretary-general of Hezbollah, Sheikh Naim Qassem, MP Ali Hassan Khalil, representing Lebanese Parliament Speaker Nabih Berri, a Hezbollah delegation headed by MP Haji Mohammad Raad, State minister Haji Mohammad Fneish, publisher of As Safir. The media office did not reveal whether any of the guests were able to see the top Shiite cleric.