Bassil sets end July as deadline for paying past-due water bills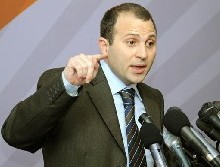 Lebanon's Energy and Water Minister Gebran Bassil on Saturday set end July as the deadline for politicians and public figures to pay their past-due water bills," noting that he will be firm in cutting the water supply of those who don't pay.
Bassil noted that the June-end deadline for politicians and public figures to pay (past-due) electric bills has ended and a report was submitted by Electricite du Liban (EDL) showing that out of LBP 12 billion, only 660 millions remain pending."
"Although we are awaiting the judiciary measures… we will follow up on each case in the report separately," Bassil said.
The minister stressed that he "controlled the issue of the names of politicians and public figures, preventing the leakage of any name to the media, despite the many petitions in this regard."
"From this day forward, I'm not in charge of this issue as the Judiciary has taken over the responsibility through its procedures," Bassil added.