Report: Hezbollah continues to provoke UNIFIL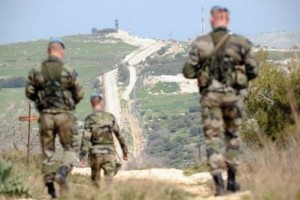 Observers slammed what they called yet another example of Hezbollah's "provocative behavior " when its supporters in south Lebanon again launched an attack against the UNIFIL peacekeepers .
Four people were lightly injured in a clash between French U.N. peacekeepers and Hezbollah supporters of the southern town of Toulin on Saturday.
The Hezbollah youth attacked the peacekeepers and took away their guns. Two U.N. troops and two locals were lightly injured, Voice of Lebanon reported
In another related development in a neighboring town on Saturday, Qebrikha , Hezbollah supporters hurled stones and eggs at a UNIFIL patrol.
Some sources said Saturday's incident occurred after a UNIFIL patrol arrested a youth following an argument in the village of Qebrikha .When they took him to a nearby town their patrol was surrounded by angry residents who disarmed them.
The Lebanese army forces then intervened and the weapons were returned to UNIFIL and the youth was released, an army spokesman said. A UNIFIL spokesman was unable to comment on the incident.
The National News Agency (NNA) said the disturbances broke out after a French patrol hit a car and a motorbike in Qebrikha .
Tension has increased in recent months between the UNIFIL peacekeepers and residents in Lebanon's south, a stronghold of the militant Hezbollah group near the border with Israel.
Some Western diplomats say Hezbollah members have encouraged and participated in the confrontations — a charge the movement denies — and a U.N. official said there had been several incidents in the last week.
"Some of these may have been something spontaneous in the street, but some were clearly organized," U.N. special coordinator for Lebanon told reporters on Thursday.
U.N. Secretary-General Ban Ki-moon said on Friday there was reason for "doubt on the motives of those (civilian residents ) involved" in some incidents.
Hezbollah deputy leader Naim Qassem denied the group was linked to the confrontations, saying they were the result of a lack of coordination between UNIFIL and the Lebanese army.
According to observers Hezbollah does not want UNIFIL to leave , since this would expose its supporters in south Lebanon to danger. It does, however want to let the Lebanese army and UNIFIL know that it is still in control of the south.