Sfeir to be awarded today the Hrawi 2010 prize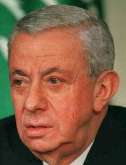 Lebanese President Michel Suleiman and Prime Minister Saad Hariri held a closed meeting on Friday with Maronite Patriarch Nasrallah Boutros Sfeir in Bkirki, according to National News Agency .
The 10-minute meeting came ahead of a ceremony to confer on Sfeir the former President Elias Hrawi Award for 2010, the NNA reported.
Last February and following the announcement that he will be awarded the 2010 prize Sfeir praised the late President whom he described as "the link between Christian and Muslim Lebanese." Sfeir also thanked members of the committee for their work in memory of Hrawi and for awarding him this year's prize. "The committee considered that this year's prize should go to the most important personality in Lebanon, the patriarch," the former first lady Mona Hrawi told reporters.