Geagea: Actions of some make us doubt their intentions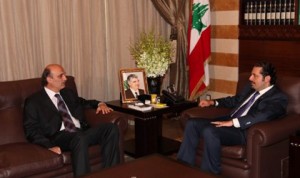 Following his Friday meeting with Lebanese Prime Minister Saad Hariri Lebanese Forces leader Samir Geagea said actions of some individuals with regards to the Special Tribunal for Lebanon's (STL) make us doubt their intentions.
STL was formed to try the killers of Lebanon's former PM Rafik Hariri , who was assassinated on February 14 , 2005.
Geagea added : Their actions makes it look as if they are implicated in the crime.
Geagea's comments come after former minister Wiam Wahhab called the cabinet yesterday to stop cooperating with the STL.
The Der Spiegel report of May 2009 revealed that Hezbollah is behind the assassination of Hariri
In reference to the rights of Palestinian refugees living in Lebanon Geagea said:
"The March 14 alliance is working on a bill that will grant Palestinians in Lebanon their civil rights," , adding that this bill is "tackling the issue from a humanitarian point of view and not a political one."
His comment comes after Progressive Socialist Party leader MP Walid Jumblatt's submitted last month a bill to the parliament that grants the Palestinians civil rights and allows them to own property in Lebanon. Hezbollah and Amal MPs voted in favor of the bill, while the Phalange party , Lebanese Forces and Change and Reform blocs voted against it.
The vote of the so called rightists angered Jumblatt who said:" The rightists are dumb and the Lebanese rightists are the dumbest "
Gaegea expressed his concerns over the current regional situation calling it " not normal".