Aridi: Condition of Masnaa crossing is shameful for Lebanon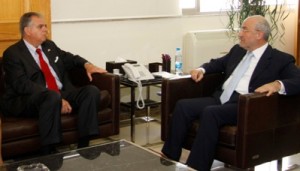 Lebanon's Minister of Transportation and Public Works, Ghazi Aridi, said Friday that the condition of the Masnaa border crossing ( with Syria) is "shameful" for Lebanon, urging the Cabinet to take a decision to renovate, expand, and modernize it.
Aridi added that the Development and Construction Council has been charged with devising a study to set up a new border crossing, but the minister noted that the decision has not yet been taken to improve the Masnaa border crossing.
Aridi held talks on Friday with his American counterpart Ray LaHood on transportation issues in Lebanon in a meeting that was also attended by U.S. Ambassador to Lebanon Michele Sison.
The two sides also agreed to make an inspection tour of Beirut Port on Saturday.