IAEA top inspector in charge of Iran, Syria resigns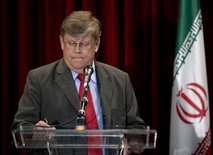 The U.N. nuclear agency said on Thursday its top inspector Olli Heinonen, head of investigations into Iran and Syria, has resigned for personal reasons after nearly 30 years at the Vienna-based organization.
Heinonen, 63, is head of the International Atomic Energy Agency's (IAEA) safeguards department which verifies that countries' nuclear programs are not being diverted for military use. He is the agency's leading Iran expert.
A no-nonsense Finn, he is probably best known for giving a presentation to diplomats on Iran in 2008 which indicated links between projects to process uranium, test explosives and modify a missile cone in a way suitable for a nuclear warhead.
"He has been indefatigable in his pursuit of the truth behind Iran's nuclear program. He is one of the agency's most experienced, knowledgeable inspectors," said Mark Fitzpatrick at London's International Institute for Strategic Studies.
"Of course, he's only part of a team of many good inspectors and the agency's work in Iran will not grind to a halt."
Since Heinonen, an expert in the chemistry of radioactive materials, joined the agency in 1983, a secret nuclear program was uncovered in Iran, North Korea left the Non-Proliferation Treaty and tested two nuclear devices, Israel bombed an alleged atomic site in Syria and Libya admitted to a covert nuclear bomb program and scrapped it.
The IAEA said his position should be filled soon. One of his deputies is Herman Nackaerts who oversees Iran inspections and holds the position Heinonen had before he was promoted. A successor could also be chosen from outside the organization.
IRAN CONCERNS
Diplomats said new IAEA Director-General Yukiya Amano, who took up his position last December, had said in private there would be changes in the agency's top staff.
Heinonen, a low-key technical expert, has been head of safeguards since 2005 and was widely seen as the trusted right-hand man of Amano's predecessor Mohamed ElBaradei.
"With my departure, I know that I leave behind a fine team of department colleagues who will continue to provide the strong support to … Mr Amano as well as to my successor," Heinonen wrote in a message to colleagues seen by Reuters.
His department's five-year investigation into Western intelligence helped harden IAEA concerns that Iran might have worked to develop a nuclear-armed missile and was still doing so.
These suspicions surfaced most strongly in Amano's first report on Iran in February. Tehran says the intelligence is forged and says its atomic work is solely for peaceful purposes.
"We have had close collaboration and worked with him a lot," said Iran's IAEA ambassador Ali Asghar Soltanieh who has been involved in nuclear matters for as long as Heinonen.
Although they were often at loggerheads over Iran's atomic work, Soltanieh said they had a good working relationship.
"We continue to cooperate with him and his department as long as he is in the agency and we wish him the best of luck." Reuters