Berri: No war this year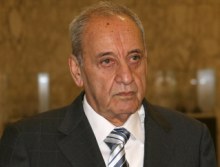 Lebanese Speaker Nabih Berri denied European warnings that Israel will wage a war against Lebanon in October.
Berri told the BBC: "I don't believe a war will be launched against Lebanon, at least not this year, but assaults have been ongoing against the country since 1978."
"Lebanon cannot be be considered liberated as long as there is one inch of its land, water, or petroleum wealth under Israeli occupation," he added.
Berri has repeatedly urged the cabinet to start exploring Lebanon's offshore natural gas reserves, adding that Israel would claim the resources otherwise.
Berri stressed that the occupied Shebaa Farms are Lebanese, saying: "Even Israel has never claimed that they are Israeli."
Addressing the arrest of various individuals in Lebanon on charges of spying for Israel, Berri said: "The spy networks are one type of the ongoing assaults against Lebanon that have been taking place since 1984."
These networks, Berri said are "the worst type of aggression, and so far, tens of spies have been arrested, but this does not mean there aren't more out there."