Lebanon-Israel-Syria peace talks a priority for Obama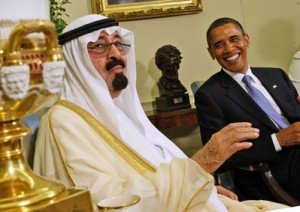 President Barack Obama and Saudi King Abdullah agreed in a meeting in Washington on the need to renew talks between Israel and Syria and Lebanon respectively, the White House said in a statement.
Obama urged bold action to secure the "Palestinian homeland" on Tuesday as he welcomed Abdullah to the White House for the first time since taking office.
Obama said the two leaders discussed Iraq, Iran's nuclear challenge and Pakistan and Afghanistan, while the king dispensed warm personal praise for his host, though there were few in-depth details of the private talks.
"We discussed the Middle East peace process and the importance of moving forward in a significant and bold way in securing a Palestinian homeland that can live side by side with a secure and prosperous Israeli state," Obama said.
Abdullah, 86, arrived at the White House just a week before Obama is due to welcome Israeli Prime Minister Benjamin Netanyahu, following Israel's decision to allow some "civilian" goods into Gaza after its deadly flotilla raid.
Obama, who pushed for such a step, may try to use the Israeli move as a spur to intensify US-brokered indirect talks between Israel and the Palestinians, as he seeks to open a direct channel between the two sides.
In a later statement about the meeting, the White House said Obama and Abdullah, in their third meeting since Obama became president, also agreed on the need to renew talks between Israel and Syria and Lebanon respectively.
Given a grim year, the president was surprisingly upbeat when he met Palestinian leader Mahmud Abbas this month, saying he believed progress was possible in the Middle East before the end of the year.
But so far, despite investing substantial personal political capital, Obama has failed to budge Israel and the Arab states and the Palestinians from entrenched positions, and his efforts have yielded few results.
Abdullah and Obama met a year ago in Riyadh, the day before the U.S. leader's landmark address to the Muslim world, at a time when Washington was seeking inducements to Israel from the Arab world to prod peace moves forward.
Those movements were not forthcoming, and Obama's own relationship with Israel has since deteriorated — though both governments now seem keen to patch up their public rift over settlement building.
After the working lunch and the Oval Office talks, Adbullah praised Obama's leadership.
"You are an honorable man and you are a good man. I don't say this in order to compliment you — I say this because this is the truth as I hear it from people around the world," Abdullah said.
Abdullah also offered a tongue-in-cheek prayer to "our friends here in the media."
"May God spare us from all of the bad things they can do to us," he said, drawing laughter from Obama, who frequently offers commentaries of the perceived failings of the press.
The State Department noted that in its last Human Rights Report that Saudi authorities "strictly limit freedom of speech and mass and publishing media."
The White House said the two leaders also stated strong support for new international sanctions against Iran over its nuclear program, agreed on the need for a "secure and prosperous Yemen, and an "inclusive" Iraqi government.
"The President welcomed Saudi Arabia's successful counterterrorism actions against Al-Qaeda," the White House said.
Saudi Arabia sees the Iranian nuclear challenge as a key foreign policy threat, and have also registered concern about the U.S. posture in the Middle East and Gulf when American troops withdraw from Iraq.
Washington may want the Saudis to do more to use its influence to get rival factions in Afghanistan to unite, or talk peace with the government, and both sides have strong concerns over instability in Yemen.