Israel: Hezbollah pushed Lebanon to back off Ghajar deal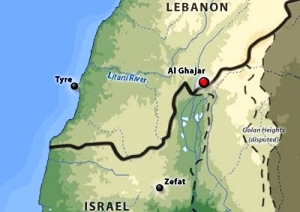 The Lebanese government backed off from agreements over the border village of Ghajar most probably under pressure from Hezbollah, political sources told Israel radio.
The sources said, however, that such a move does not create an obstacle to reaching a deal on Israel's pullout from the northern part of the village.
The sources spoke after the security cabinet convened to review a report from the foreign ministry secretary-general, Yossi Gal, over his contacts with the UNIFIL leadership on the Ghajar withdrawal.
Meanwhile on Wednesday that the Israel Defense Forces (IDF) held drills using heavy artillery in the Shebaa Farms, and the Israeli Air Force (IAF) flew over the area as well as Hasbaya and al-Arqoub.
Naharnet & Now Lebanon