Geagea: March 8 acting as if they were involved in Hariri murder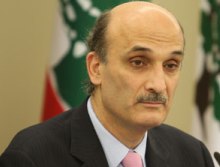 Lebanese Forces leader Samir Geagea criticized some in the media on Wednesday for jumping to conclusions over the arrest of the mobile (Alfa cell ) phone company employee Charbel Kazzi, who was accused of collaborating with Israel, a statement from LF said.
"The March 8 alliance media linked Kazzi's case with the Special Tribunal for Lebanon (STL), although no indictment from the STL has been issued. The way March 8 parties have been acting leads us to believe they might have links to the 2005 assassination Lebanon's former Prime Minister Rafik Hariri " Geagea said. He said, however, he refuses to believe any Lebanese parties are linked to Hariri's murder.
The LF leader praised security forces for Kazzi's arrest.
He also condemned residents for attacking UNIFIL soldiers in South Lebanon on Tuesday, and accused parties who want to put an end to UN Security Council Resolution 1701 of motivating residents to carry out the attacks. The area where UNIFIL was attacked is a Hezbollah stronghold.
Geagea further claimed the incident was planned in advance , and voiced hope President Michel Suleiman and the cabinet will follow up on the incident "or else, the Lebanese state will lose its credibility."
Geagea's remarks came after his meeting with US Ambassador to Lebanon Michele Sison on Wednesday.
Sison said the US supports Lebanon's sovereignty and backs the cabinet's decisions on border demarcation based on international law, the statement said.