UNIFIL: The UNIFIL says Protests in South Lebanon were the result of misunderstanding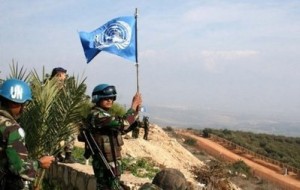 Neeraj Singh, UNIFIL spokesman said on Wednesday that protests by residents in South Lebanon were the result of a misunderstanding, National News Agency (NNA) reported.
https://yalibnan.com/wp-admin/media-upload.php?post_id=10357&type=image&TB_iframe=true
Residents on Tuesday blocked the Odaissi-Kfar Kila-Tayba road to prevent UNIFIL vehicles from passing through. In Kherbet Selem, a UNIFIL soldier was injured in a stoning attack on the vehicle he was riding in.
UNIFIL reportedly was conducting a drill aimed at testing its capacities, and so deployed a large number of soldiers over a 36-hour period , NNA reported.
"There weren't any special operations made by UNIFIL . The forces that were deployed were only asked to pursue the same routine activities UNIFIL does," Singh said.
He also said UNIFIL's work is transparent, and the Lebanese Armed Forces (LAF) was aware of the drills.
As-Safir newspaper on Wednesday quoted an unnamed security source who said the Lebanese army did not take part in the UNIFIL drills because disagreements over the nature of the exercises had previously led to delays.