Lebanon postpones discussion of oil bill till July 12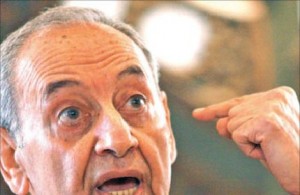 Lebanon's joint parliamentary committees on Monday approved the first clause of a draft law on oil exploration and postponed discussion of the proposal to July 12.
The session was held in Nejmeh Square and chaired by Speaker Nabih Berri.
It was attended by Finance Minister Raya Hasan, Energy Minister Jebran Bassil, and Environment Minister Mohammed Rahhal as well as MPs from inside and outside the committees.
No Shia identity
In a related development Berri told As-Safir newspaper in an interview published on Monday that the oil fields, if explored off the Lebanese coast, "will not have a Shia identity or a partisan affiliation to Hezbollah or the Amal Movement just because they are located off the coast in South Lebanon."
Berri told the daily that studies have shown that there are oil traces off the coast of Kesrouan, Batroun, Tripoli and others, "the difference is that the oil fields found off the coast in the South could be commercial extracted , which would help rid Lebanon of its debt."