Iran rejects CIA claim on nuclear ambitions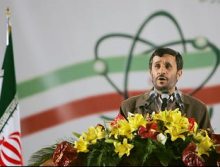 Iran has rejected as "psychological warfare" assertions by the U.S. intelligence chief that Tehran has enough uranium for two nuclear weapons.
Iranian Foreign Ministry spokesman Ramin Mehmanparast said Monday the remarks by the CIA chief were aimed at creating a "negative perception" of Iran's peaceful nuclear program.
On Sunday, Leon Panetta said Iran probably had enough low-enriched uranium for two nuclear weapons, but that it likely would take two years to build them.
The U.S. and its allies maintain that Iran is trying to develop nuclear weapons, a charge Tehran denies.
The U.N. Security Council approved a fourth round of sanctions against Iran because of fears over its uranium enrichment program.
Iran postpones nuclear talks
Iran will not hold talks with the West over its nuclear program until late August to "punish" world powers for imposing tougher sanctions against the country, President Mahmoud Ahmadinejad said Monday.
He also vowed that Iran will retaliate should its ships be searched over suspicions that the cargo may violate the new sanctions approved by the U.N. Security Council earlier this month.
The European Union and U.S. Congress followed with additional new punishing measures of their own to discourage the Iranian government from continuing its uranium enrichment program, which they fear could be used to produce a nuclear weapon.
Ahmadinejad accused the world powers of approving the latest sanctions to give them the upper hand in talks over the issue.
"We call this bad behavior," he told a news conference, adding talks on the issue would be postponed until the end of the Iranian month of Mordad, which would be about Aug. 20. "This is a fine to punish them a bit so that they learn the custom of dialogue with our nation."
The Iranian leader also set three conditions for an eventual resumption of talks, saying countries who want to participate should make clear whether they oppose Israel's purported atomic arsenal, whether they support the Nonproliferation Treaty and whether they want to be friends or enemies with Iran.
However, he said, participation in the talks was not contingent on the answers. AP