Israeli FM: No Palestinian state by 2012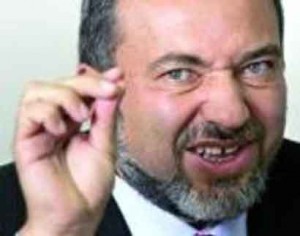 Israel's hard-line foreign minister said Tuesday that there was "no chance" a Palestinian state would be established by 2012 — a message that threatened to cloud the latest visit by Washington's Mideast envoy.
The comments by Foreign Minister Avigdor Lieberman drew swift Palestinian condemnations and could put Israel at odds with the international community, which has set a 2012 target for brokering a peace deal between Israel and the Palestinians.
"As an optimist, I see no chance that a Palestinian state will be established by 2012," Lieberman said at a news conference with Russian Foreign Minister Sergey Lavrov. "We can express interest, we can dream, but in reality, we are still far from reaching understandings and agreements on establishing an independent state by 2012."
Russia, along with the U.S., European Union and United Nations, make up the "Quartet" of Mideast negotiators — an international group that has spent nearly a decade trying to forge a peace agreement.
White House envoy George Mitchell was set to arrive in Israel later Tuesday to mediate a fifth round of indirect talks between the sides. Mitchell is trying to prod Israel and the Palestinians into direct negotiations.
It wasn't clear whether Lieberman was expressing his own opinion or government policy. A spokesman for Prime Minister Benjamin Netanyahu refused to comment.
Lieberman is a contentious figure because of his support for redrawing Israel's borders to push areas with heavy concentrations of Arabs out of Israel and into Palestinian jurisdiction. He also launched a failed effort in parliament to force Israeli Arabs to take a loyalty oath or lose their citizenship.
A spokesman for Palestinian President Mahmoud Abbas' West Bank government accused Lieberman of defying international efforts to wrap up a deal.
"Lieberman is issuing a challenge to the international community, which is in agreement on the two-year ceiling," Ghassan Khatib said.
Talks between Palestinians and Israelis resumed in May after a 17-month breakdown. The Palestinians have insisted on U.S. mediation, saying they are frustrated by Israel's refusal to declare a halt to all construction in the West Bank and east Jerusalem, lands they claim for a future state along with the Hamas-ruled Gaza Strip.
The aim is to shift gears to direct talks in late September. But much will depend on whether Israel agrees to extend a construction slowdown it has declared in the West Bank and a de facto moratorium in effect in east Jerusalem, which the Palestinians want for a future capital.
Abbas said Monday that Israel has not offered enough to make it worthwhile to move to direct talks.
Israeli government spokesman Mark Regev said in response that direct talks are the only way to solve the conflict.
At their news conference, Lieberman and Lavrov expressed very different positions on Hamas, the militant group that rules the Gaza Strip. Israel and many Western countries boycott Hamas as a terror organization, while Russia has contacts with the group.
Lavrov recently met with one of the group's Damascus-based leaders. In Jerusalem on Tuesday, he noted that Hamas won Palestinian parliamentary elections in 2006, and said Russia uses its meetings with Hamas to try to persuade the group to become more moderate.
Lieberman said Israel was unhappy about this Russian policy.
"It is not a secret that we don't agree about this," he said. "The approach to Hamas is definitely one of the points on which we do not agree." AP