Berri: Why all the fuss about the abduction of one Israeli?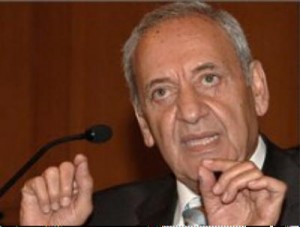 Lebanon Speaker Nabih Berri wondered Tuesday over the uproar created over the abduction of one Israeli, "while an entire people are abducted and no one lifts a finger."
He was referring to the abduction of Israeli soldier Gilad Shalit who was captured on 25 June 2006 by the Palestinian Hamas group in a cross-border raid.
He said after meeting with his Syrian counterpart Mahmoud al-Abrash in Damascus: "The issue of Gaza is fundamental and is part of the major Arab causes."
Berri is in Damascus to participate in the extraordinary meeting of Parliament Speakers of the Organization of Islamic Conference members scheduled for Wednesday.
He voiced hope that the meeting he is attending in Damascus would be effective and have tangible results for the Arabs, adding that Gaza is a key concern for Arabs.