Turkey restricts Israeli use of its airspace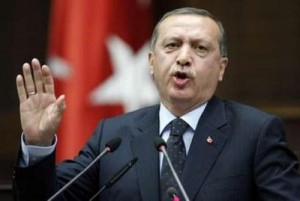 Turkey has clamped down on Israel's use of its airspace, according to a statement from the Turkish prime minister and information from a Turkish government official.
Turkish Prime Minister Recep Tayyip Erdogan said Monday that his country's airspace had been closed to Israeli aircraft in the wake of the Israel's May raid on a Turkish ship that was part of a Gaza aid flotilla. Nine Turkish activists were killed in the raid, which has caused an epic rift between the two countries.
But the government official, who declined to be identified, told CNN that "this is not exactly the (complete) closing down of Turkish airspace."
All civilian flights are continuing, the official said. "With regard to military flights, the normal procedure is that for each … flight countries, must ask for permission to use Turkish airspace. It is evaluated on a case-by-case basis. It is true that one Israeli flight was not allowed into Turkish airspace. … Any
future military flights will also be evaluated on a case-by-case basis."
The official did not give on details on the origin or destination of the flight that had been turned away.
Israeli officials have defended the legality of the May raid and criticized those aboard the ship for attacking the boarding party.
Israeli Transportation Minister Israel Katz said Monday that the country's planes would continue as usual with takeoffs and landings on flights between the two countries.CNN