Pope's envoy declares beatification of Nehmeh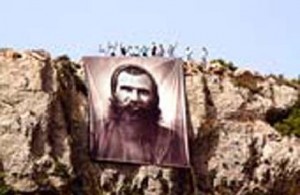 Pope Benedict XVI's special envoy, Archbishop Angelo Amato, declared the beatification of Venerable Estephan Nehmeh in Kfifan in northern Lebanon on Sunday during a ceremony attended by President Michel Suleiman, Prime Minister Saad Hariri, Maronite Patriarch Nasrallah Boutros Sfeir, cabinet members, MPs and a large crowd, the National News Agency (NNA) reported.
This comes after the Pope and the Vatican's Congregation for the Causes of Saints decided to beatify Nehmeh earlier in March.
Archbishop Amato read the papal decree bestowing the title of "blessed" on Estephan Nehmeh (1889-1938), who devoted his life to "meditative prayer and unlimited service to the poorest.
Reading the Pope's message during the ceremony, Amato said Nehmeh's beatification will be celebrated every year on August 30, "the day he was born in the sky."
The bedridden Sister Marina, 95, also attended Sunday's ceremony. Sick for 30 years, it was she who prayed to her dead uncle to intercede for her.
Maronite Patriarch Nasrallah Sfeir presided over the ceremony at the Saint Justine and Saint Cyprien monastery at Kfifan, where Nehmeh's mummified body is displayed in a glass coffin.
Later, the curtain of Nehmeh's picture hanging on the Kfifan monastery's wall was removed amid the audience's applause.