Lebanon MP urges ratification of petroleum law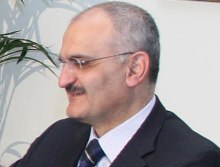 MP Ali Hasan Khalil urged on Tuesday the need to ratify the petroleum law in Lebanon, saying that some MPs are delaying the approval.
Khalil, a member of the Amal Movement said: "We have waited years for this draft law and House Speaker Nabih Berri has placed it as a priority for over two years, but unfortunately we are still running in circles from one committee to the other under various excuses that do not deserve any delays in this matter."
Khalil stressed that the draft law has covered all main protocols and technical issues in drilling for oil and it has been passed onto MPs, adding: "We are open to discussing all its details."
Addressing Future MPs' demands that the discussion of the law be postponed until the government finalizes studying it, Khalil said that such a step would override the constitutional privileges of parliament.
"We need to speed up ratifying the law because no one is waiting for us and especially not Israel," he stressed.
Israel has already started drilling near the Lebanese maritime borders and many are accusing it of stealing Lebanese gas