Aoun in Syria to meet Assad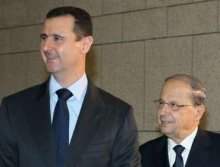 Free Patriotic Movement leader Michel Aoun held talks with Syrian President Bashar Assad in Damascus on Tuesday, Syria's state-run news agency, SANA, reported.
According to an FPM statement Aoun traveled to Damascus, Syria on a private visit at 11:00 am . He is being accompanied by his son-in-law , Energy minister Gebran Bassil.
Aoun will reportedly discuss the latest development in Lebanon and the region