Lebanese terrorist killed in US drone attack in Pakistan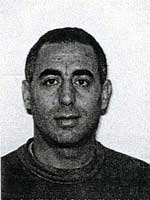 A major Lebanese terrorist released by the German government five years ago has been killed in a US drone attack in Pakistan's tribal region, Pakistani intelligence sources said on Sunday.
Mohammed Ali Hamadi died when a missile fired by a CIA-operated unmanned drone aircraft destroyed a compound in North Waziristan, a known hub of al-Qaeda and Taliban militants, on Saturday.
"Altogether 16 militants died in the drone attack and 11 of them were foreigners," said a Pakistani intelligence official who spoke on condition of anonymity. The term foreigner is used to refer to al- Qaeda associated operatives of Arab and Central Asian origin.
"We have identified those who were killed and among them is Mohammad Ali Hamadi," added the official.
Another intelligence official who also sought anonymity verified the death of Hamadi. However, there was no government official available who could confirm the killing on record.
Hamadi, 46, is an alleged member of the Lebanese militant organization Hezbollah. He was sentenced by a West German court in 1987 for 19 years for skyjacking a Trans World Airlines (TWA) flight in 1985. One US Navy diver was killed in the hostage-taking event.
The convict was released on parole in 2005 by German authorities, after which Hamadi is believed to have returned to Lebanon. In 2006, the US Federal Bureau of Investigation (FBI) put his name on its list of most wanted terrorists.
Pakistani intelligence officials said that Hamadi traveled to Afghanistan to fight NATO troops in November 2009 and joined the Central Asia-based al-Qaeda linked terrorist group Jamaat al-Jihad al-Islami, which is believed to have recruited many Turkish and German nationals.
In March 2010, Hamadi came to Pakistan's North Waziristan district, from where al-Qaeda and Taliban fighters conduct cross- border attacks on international forces in Afghanistan, to join colleagues based there.
"Hamadi and his comrades were in a meeting to plan further attacks in Afghanistan when the drone strike took place," a Pakistani intelligence official said.
Among the other killed were: Atif bin Saeed, believed to be a close associate of al-Qaeda chief Osama bin Laden; Turkish national Abdul Waheed al-Turkey; Saudi citizens Abdul Hamam and Brother Gul (a nick name); and Palestinian national Abdul Wali. DPA