Sfeir: The spirit of love prevailed in Zahle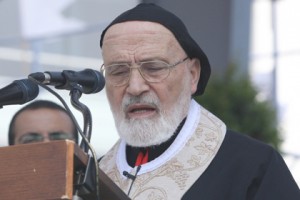 Maronite Patriarch Nasrallah Boutros Sfeir opened on Sunday the new Saint Maroun Cathedral in the city of Zahle , in the Beqaa region in East Lebanon with a call for unity and reconciliation among rival Christian factions.
The ceremony was attended by Minister of Tourism Fadi Aboud as the representatives of President Michel Suleiman, MP Adel Latif al Zaina as the representative of Prime Minister Saad Hariri and Minister Adnan Qassar as the representative of Speaker Nabih Berri and several other ministers and MPs.
"We are happy to meet with you in this church, which was built with the efforts of the late former President Elias Hrawi, who exerted efforts to help build it by raising funds from his friends of various religious affiliations," Sfeir said in his opening sermon.
Apparently referring to Zahle's Christian politicians, who are split between the March 14 and March 8 factions, Sfeir said, "We pray for your reconciliation and closing of your ranks."
He said "the spirit of love, tolerance and goodness" prevailed in Zahle which, he said, saw Christians displaced from their homes during the 1975-90 civil war.
The event marks the first time a patriarch visits Zahle in 73 years.
During his visit today Sfeir stopped in the towns of Mraijat, Taalbaya, Chtoura, Qub Elias, Jdeita, Moaalaqat Zahle, Qaael Rim and Wadi al Arayesh where he was welcomed by huge crowds and large celebrations
Palestinian rights
on Saturday Sfeir told Al Arabiyya that Lebanon was not suitable to naturalize the Palestinians saying it hardly fits its own population.
He added that other Arab states should take the responsibility because they have the means to do so, and denied any attempts to force the Palestinians out of Lebanon.
He also addressed the issue of Hezbollah's arms, saying that it is an "unusual case" because other countries are allowed to set up a regular army, but this is not the case in Lebanon.
Furthermore, he noted that Syria still has power in Lebanon, stressing that some Lebanese sides are strengthening their ties with the Arab state at Lebanon's expense.
Asked about whether he intends on visiting Syria, Sfeir said: "Lebanon and Syria will not benefit from any trip I make at this moment."
Zahle explosion
On the eve Sfeir's historic visit to Zahle a bomb explosion took place in the industrial zone in which one man was killed and another wounded
A car which was reportedly rigged with an explosive charge exploded near a shop in Zahle's industrial zone.
The explosion killed Ziad al-Hussein, from Majdal Anjar, instantly according to An Nahar sources. It was not immediately known if the victim was preparing to plant the bomb in the car.
The victim is a brother of Ammar al-Hussein, who was killed in fighting with the Lebanese army in Majdal Anjar a few months ago.
The sources blamed a fundamentalist group, whose members follow al-Qaida organization, for the explosion.
An-Nahar also reported on Sunday that one of the wounded men in the explosion was identified as Khaled Hammoud. It quoted a source investigating the incident as saying that the two wounded men and the owner of the shop where the explosion happened have been held for questioning.