Lebanon flotilla denied permission to sail to Gaza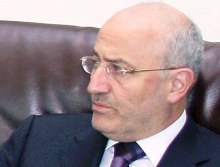 Another aid ship, Julia, is expected to sail to the Gaza Strip from Lebanon, but Minister of Transportation and Public Works Ghazi Aridi has denied it permission ( to sail to Gaza) because it has not presented a request to the ministry( to sail), according to An Nahar newspaper.
Aridi said: "So far, we have not received an official request specifying the ship's destination."
He stressed that the law states that a ship must specify its destination, number of crew, and cargo in order to be granted permission to sail.
The minister added that the dispute that has emerged over aid ships from Lebanon is an attempt to set the people against each other by portraying them as if some oppose Palestine, while others support it.
He added: "The ports and airport are the state's responsibility, and we will not subject the Lebanese to any moral or physical harm."
Julia had docked in the northern city of Tripoli's port two months ago and was loaded with a shipment of glass for a local merchant. Since most of the cargo was damaged the merchant refused to accept it, resulting in a legal and the ship owners were fined
The ship owners never paid the $110,000 fine, and it was later revealed that the group behind the other aid ship Mariam actually paid it and requested Julia's owners to join the Mariam aid ship campaign to Gaza.