Reports: Israel braces for more Gaza-bound aid ships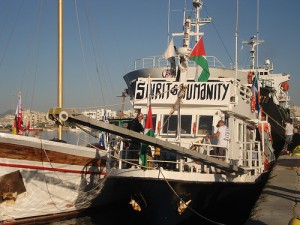 According to reports coming from Jerusalem, Israel's navy is on high alert in anticipation of the arrival of more international aid flotillas determined to break the 3 year old blockade of the Gaza Strip.
Two Iranian cargo ships have reportedly set sail in recent days, one from Iran and the other from Istanbul and another flotilla is reportedly being prepared in Lebanon, by Lebanese women.
Israel reportedly has no intelligence that the Iranian or other ships were carrying illicit arms to Gaza.
Iran had originally threatened to deploy Revolutionary Guard troops with its aid ships, but reportedly decided against such a move at the last minute.