Lebanon Syria amend 15 bilateral agreements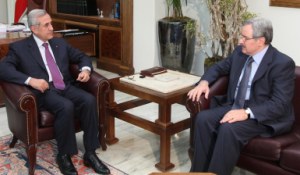 President Michel Suleiman reviewed with Minister of State Jean Ogassapian, who headed the Lebanese delegation of the Lebanese-Syrian technical preparatory committee, the result of the talks conducted by the committee in Damascus earlier in the week, National News Agency (NNA) reported on Monday.
According to media reports, fifteen amended bilateral agreements were approved by the committee.
The NNA added that Suleiman will meet on Tuesday with Syrian President Bashar al-Assad to discuss improving bilateral relations and consult about a variety of regional and international issues.
Ministerial sources told An Nahar that the weekend development would give fresh impetus to normalization of ties between the two countries.
The 15 amended agreements are in in the fields of environment, consumer protection, agriculture, tourism, culture, interior, defense, education, economy and technical education .
Ogassapian, said the results of the Committee's meetings will cause a remarkable development in relations between the two countries, affirming that the Lebanese government is showing considerable interest in boosting and developing Syrian-Lebanese relations.
"We were calling for Lebanese-Syrian ties to take place on the level of institutions. This is happening today. This is a constitutional work that confirms cooperation is between a state and another state," Ogassapian said.