NTV: Hezbollah chief to visit Turkey soon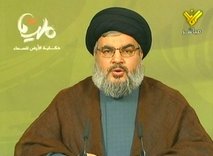 Hezbollah MP Hassan Huballah ( Tyre, south Lebanon) has reportedly confirmed on Sunday that Turkish Prime Minister Recep Tayyip Erdogan has invited Hezbollah chief Sayyed Hassan Nasrallah to Turkey, on the recommendation of Hamas political bureau chief Khaled Mash'al.
Nasrallah will visit turkey soon and will leave Lebanon "with the help of the Iranian Revolutionary guards for fears that Israel would assassinate him," Turkish NTV Channel reported .
Meshaal has reportedly convinced Erdogan that such a step would increase the Turkish prime minister's popularity in the Arab and Islamic worlds and would further embarrass Israel in the wake of its deadly raid on the Gaza-aid flotilla.
The Iranian President Mahmoud Ahmadinejad is reportedly examining the possibility of attending the meeting in order to emphasize the Iran-Turkey-Syria alliance with Hezbollah and Hamas.
According to Huballah, Erdogan will be invited to Dahiya to attend a rally in his honor in which Nasrallah will participate.