Geagea: The Lebanese government is the only legitimate authority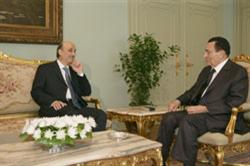 Lebanese Forces leader Samir Geagea who is in Egypt on an official visit met on Sunday with Egyptian President Hosni Mubarak to discuss bilateral ties and the latest developments in the region.
Following his meeting with Mubarak that lasted 65 minutes , Geagea told reporters that the Middle East region is going through a phase of instability.
He urged the Lebanese to rally around their government as the country's legitimate authority – and as the best means of defense against external threats.
He said the Lebanese government alone should have the final decision to defend Lebanon against a possible Israeli attack.
Geagea thanked Mubarak for his support for the Lebanese government and people according to an LF statement
Geagea who arrived Saturday in Cairo is being accompanied by an LF delegation that included his wife MP Strida Geagea , MP Antoine Zahra , Joseph Nehmeh , who is responsible for LF's external affairs and Free Lebanon radio manager Tony Murad.
On Saturday, Geagea met with Egyptian Foreign Minister Ahmed Abul Gheit in Cairo.
"Abul Gheit reiterated Egypt's full support for Lebanon, its legitimate authorities, the Taif Accord and the democracy and freedom in Lebanon," an LF statement said.