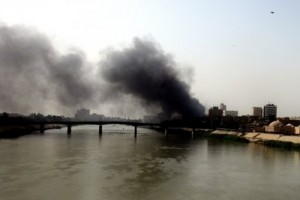 Cars packed with explosives and roadside bombs killed 12 people in Baghdad Sunday in what officials said appeared to be an attack targeting Iraq's central bank by militants who wanted to rob it.
A series of six bombs detonated in a marketplace near the central bank within eight minutes, suggesting a coordinated attack, a Baghdad police officer and an Interior Ministry official said. The bombs sent black smoke into the air as ambulance sirens screamed on the way to the scene.
Maj. Gen. Qassim al-Moussawi, a spokesman for Baghdad's military operations, said the bombings were the work of a terrorist operation that sought to rob the Central Bank of Iraq.
At least 12 were killed and 25 injured by four roadside bombs and two others inside parked cars, the officials said. Medics at three area hospitals confirmed the casualties. All the officials spoke on condition of anonymity because they were not authorized to talk to the media.
Violent robberies that bear some of the hallmarks of politically motivated attacks have been on the rise in Iraq, as sectarian violence ebbs. Iraqi officials have attributed at least some of them to cash-strapped militants desperately trying to raise money for their operations.
Last Wednesday, masked gunmen killed three jewelers before fleeing with a large amount of gold in a heist in the city of Basra in southern Iraq. Two weeks earlier, a similar robbery on a gold market in Baghdad killed 15. ( AP)
photo: Smoke rises over central Baghdad, Iraq, Sunday, June 13, 2010, following a series of explosions. Iraqi security officials say a series of downtown marketplace bombs near the Central Bank of Iraq has killed several people and injured many others. A Baghdad police officer and a Ministry of Interior official said Sunday's explosions from at least three roadside bombs may have targeted bank employees as they were leaving work. (AP)
This error message is only visible to WordPress admins
Error: No connected account.
Please go to the Instagram Feed settings page to connect an account.