A taste of Bedouin life in Lebanon
The award-winning travel writer recalls a stay at a stunning eco-lodge in the mountains north of Beirut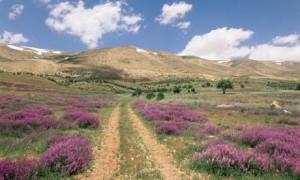 By: Piers Moore Ede
Once free of the urban sprawl of Beirut, the landscape quickly reverted to steep, terraced hillsides, and medieval villages scorched by a fierce sun. Aged men wheeled melon carts through the streets of Zahle and Baalbek; whole lamb carcasses hung from hooks in the open air. I was struck by the greenness of the almonds at the roadside stalls, the whiteness of the men's robes against the cobalt sky. Reaching the Chamois valley, I had my papers checked briefly at a military checkpoint, before driving on into the increasingly empty expanses of Lebanon's north-east, my destination for the next few days.
At around 2,000m, the burning heat of the lowlands was moderated to a distant memory. Arriving at the remote eco-tourism camp of Al Jord, I was awed by the wildness of this place, surrounded by verdant pastures and long sandy slopes studded with juniper trees, as well as by the ambition it must have taken to set up a project like this.
"It has taken a lot of patient talking with several tribes to make this happen," one of the founders, Philippe, told me over coffee. "This is the traditional summer home of certain tribes, but the tribal boundaries do not begin and end with a line on a map. The land is divided by some particular landmark – a white rock here in the north, a gully in the south – and so for us to make this land protected has meant uniting some of these families, to assure that they would all benefit. Finally, it is working, and it has resulted in the first lodge of its type in the entire country. We employ eight people here, but indirectly that means 34 families have a means of survival."
Al Jord is an eco-lodge in the best sense: using bio-agriculture and recycled water, employing local people, and offering accommodation in the form of traditional Bedouin tents made from woven goat and sheep hair. The tents are furnished simply, with comfortable beds, traditional lanterns, and a rammed earth floor. Meals are eaten in a large tent set out as a dining room, open at the front to reveal distant forests of cedars and fir and, in the foreground, an expanse of olive-green mountainside. For lunch I had a salad of wild herbs, garlic in oil, and a type of exceptionally spicy local radish. There was bulgur with parsley, potatoes with basil paste, hummus and hot flatbreads. Afterwards I lay in the afternoon sun, occasionally opening my eyes to notice a soaring raptor, two mules carrying firewood up to a nearby village, a tribesman bringing his goats down from the high pasture.
It is just a few hours' drive from Beirut but the lodge offers a chance to see a different Lebanon, one untouched by war or development. The people, too, have a special quality: the gentle gruffness of mountain dwellers.
"They're really not even that concerned with being Lebanese," Philippe told me. "They belong to their tribe and beyond that the land itself."
As the twilight grew closer, I volunteered to help with the evening's principal foraging mission, which involved going higher into the mountains to collect ice for our drinks. The jeep whined as we ventured up steep inclines, then slowed to a crawl as the edge fell away against a 70m drop. We parked at the base of a snow-field and hiked up on to its back with shovels. After we had all had a go at sliding down it on a plastic bag a few times for fun, I got to work hacking pristine chunks from its surface. We carried them carefully to the car like miners returning with a haul of gold, then drove back to Al Jord to toast our success with some locally brewed arak, topped off with freshly shaved chunks of glacier.
• Al Jord (+961 345 8702) in Bekaa, Hermel, has accommodation for up to 100 people in cotton or goat hair tents that sleep up to 10, from $10pp a night. The lodge can also arrange trekking, biking and donkey rides.
Other eco-lodges in the Hermel area include Al Kwakh and Lazzab. Contact Hostels Lebanon (+961 963 8128) for more options. BMI flies to Beirut.