Ogassapian headed to Damascus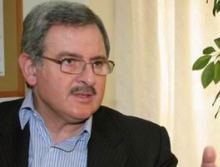 State Jean Ogassapian headed a Lebanese technical and administrative delegation to Damascus for talks with Syrian officials on reviewing and signing new bilateral agreements.
Ogassapian told members of the delegation that "the Syrian officials are very positive and open about these efforts , and we look forward to more cooperation and better relations on the level of state institutions."
Ogassapian told An Nahar newspaper that the team's visit is aimed at reaching final drafts for modifications that had been discussed before and others that require further discussion, in order to sign agreements during Lebanese Prime Minister Saad Hariri's upcoming visit to Syria.
The date of Hariri's upcoming visit has not been set yet.
The delegation includes 37 individuals representing 16 ministries, and includes general managers, advisers, and military officers.
Prior to leaving Beirut, Ogassapian headed a meeting for for his accompanying delegation at the Grand Serail to discuss the final touches over the topics that will be discussed in Damascus.
Ogassapian said after the meeting: "What has been reached so far should serve to establish a new phase of cooperation based on solid foundations of trust between the two sides."
The delegation is expected to remain in Syria for 2 days.