World Cup broadcasts will cost the government $800k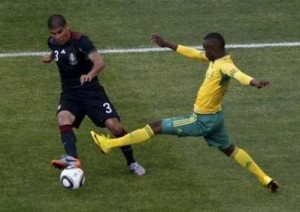 Lebanon's Information Minister Tarek Mitri said during a press conference that the Lebanese government will pay $800,000 to Al-Jazeera television channel so that the Lebanese could watch World Cup matches without additional fees.
He said the cable distributors have promised not to raise the fees for subscribers during the World Cup match broadcasts.
Mitri said the syndicates of restaurant and hotel owners will pay Al-Jazeera, which has the exclusive broadcast rights, their fees as agreed on during last Monday's meeting.
Photo : South Africa?s Siboniso Gaxa (R) battles for the ball with Mexico?s Carlos Salcido during the 2010 World Cup opening match at Soccer City stadium in Johannesburg June 11, 2010