Gemayel: Lebanon abducted by Hezbollah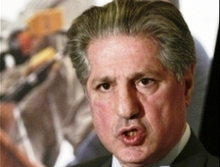 Lebanon's former president and Phalang party leader Amin Gemayel, told the London based Al-Sharq Al-Awsat newspaper that Lebanon is a captive, abducted state where Hezbollah operates as an independent and sovereign entity separate from the state.
Gemayel warned that Lebanon's fate was being linked to the fate of Iran's nuclear portfolio due to the Iran-Hezbollah connection.
Gemayel also called for resolving the disputes between Syria and Lebanon at the international court in The Hague.
Al-Sharq Al-Awsat