Iran sanctions: Jumblatt defends Lebanon's abstention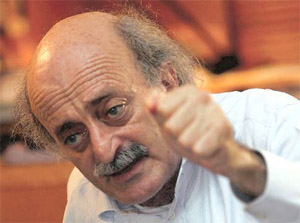 In an interview with Hezbollah's al-Manar TV, Democratic Gathering leader MP Walid Jumblatt clarified why he backed the abstention from voting on Iran sanctions:
" I've opposed Lebanon's membership in the Security Council since the beginning because it doesn't suit its tiny size and Lebanon can't join the game of nations."
Last Friday he said that Lebanon, which is one of the 15 Security Council members, must not vote against the UN draft resolution on the Iran sanctions.
"We must abstain from the voting, because we cannot bear the consequences of rejecting the resolution," Jumblatt said, adding, "We are neither Turkey, nor Iran. Abstention is enough."
Earlier today , Hezbollah and Amal movement condemned the government's decision to abstain from voting at the U.N. Security Council against sanctions on Iran, hoping that the Lebanese showed more unity. Describing the resolution as "unjust," Hezbollah hailed the "fair stance of Turkey and Brazil," for voting against the resolution.
Jumblatt rescued the abstention vote
According to local media reports while President Michel Suleiman was for opposing the sanctions during the cabinet meeting on Wednesday Jumblatt's cabinet members called for abstention… this is why there was a 50/50 vote on the issue .
They said while Suleiman tipped the balance in favor of the Opposition, Jumblatt rescued March 14 forces from the situation.
"I was initially with abstaining from a (U.N.) vote on Iran sanctions," Jumblatt said in remarks published Thursday by the daily As-Safir.
"And before that, I was not enthusiastic about Lebanon being a member in the Security Council," Jumblatt added.
"But under this reality, the position expressed by Ambassador Nawaf Salam was the best for Lebanon because we are not a large country such as Turkey and Brazil" Jumblatt said
"What we did avoided Lebanon from submerging into the game of nations," Jumblatt noted.