Analysis: Iran-Russia friendship sours
After a surprisingly intimate partnership over two decades, the friendship between Russia and Islamic Iran risks a major rupture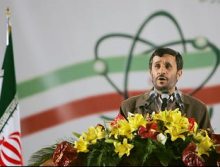 After a surprisingly intimate partnership over two decades, the friendship between Russia and Islamic Iran risks a major rupture amid a crisis in relations over the nuclear standoff, analysts said.
Russia's support of a new round of UN sanctions against Tehran, adopted on Wednesday, and refusal to deliver air defense missiles to Iran has left the Iranian leadership fuming over what they see as betrayal by a trusted ally.
Iran is now cultivating a close alliance with an increasingly confident Islamist-rooted government in Turkey, which some see aimed at replacing its alliance with Russia. 'Never in modern history has there been such an aggravation in relations between Russia and Iran,' said Rajab Safarov, director of the Center for Contemporary Iranian Studies in Moscow.
Iran has been particularly offended by Russia's refusal to give wholehearted backing to a nuclear fuel exchange deal between Iran, Brazil and Turkey aimed at defusing the nuclear standoff. 'Iran expected Russia to be the first to welcome this deal. Now Iran is moving in directions that do not suit Russia,' said Mr Safarov. 'Russia's influence on Iran is already waning, the cards that Russia had are no longer there and have gone over to Turkey.'
In the early years of the Islamic Republic in the 1980s after the toppling of the shah, chants of 'Death to the USSR' were as much as mantra among the Tehran revolutionary faithful as 'Death to America.' The USSR actively backed Saddam Hussein's Iraq in the latter part of the 1980-1988 war with Iran, while the clerical regime in Tehran angered Moscow by cracking down on the Soviet-backed Iranian Communist Party Tudeh. But with the end of the Iran-Iraq war and collapse of the Soviet Union, relations between Tehran and Moscow warmed rapidly, based on common energy interests and a shared distrust of the West.
Most crucially, Russia in 1995 signed a deal with Iran to build its first nuclear power station in the southern city of Bushehr. As the international standoff over the Iranian nuclear crisis intensified in the last half decade, Tehran could count on Moscow to soften sanctions measures and rubbish Western suggestions it was seeking the atomic bomb. But Russian frustration with Tehran grew rapidly this year after Iran rejected a nuclear fuel exchange deal involving Russia and instead opted for an accord brokered by emerging powers Brazil and Turkey. Tensions then spiraled when on May 26 Iranian President Mahmoud Ahmadinejad used one of his trademark provincial rallies to tell supporters that Russia risked becoming one of the Islamic Republic's historic enemies. Using language rarely heard from a Kremlin official, President Dmitry Medvedev's foreign policy adviser Sergei Prikhodko witheringly told Mr Ahmadinejad that 'political demagoguery' never worked.