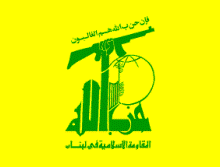 Hezbollah and Amal movement condemned the government's decision to abstain from voting at the U.N. Security Council against sanctions on Iran, hoping that the Lebanese showed more unity.
Describing the resolution as "unjust," Hezbollah hailed the "fair stance of Turkey and Brazil." Both countries have voted against the resolution.
The party hoped that Lebanon was able to reflect a stronger and unified image about its people.
Amal movement also issued a statement reflecting Speaker Nabih Berri's stance. Amal said it was surprised by "the government's no decision."
Hezbollah MP Ali Fayyad told OTV on Thursday that Lebanon's abstention from voting on Iran's sanctions at the UN Security Council on Wednesday was a strange and unjustified step that would cause confusions within domestic politics.
Meanwhile, Hezbollah 's al-Manar TV launched a campaign against March 14 ministers, who in addition to Democratic Gathering leader Walid Jumblatt's cabinet members, have backed Lebanon's abstention at the Security Council.
Al-Manar said the majority ministers were appeasing the U.S. with their stance.
Resolution 1929
The UN Security Council on Wednesday passed Resolution 1929, which aims to persuade Tehran to curb its suspect nuclear program by widening military and financial sanctions. The Resolution passed 12- 2. Lebanon abstained from the vote, while Turkey and Brazil voted against it.
No repercussions
Minister of State Adnan as-Sayyed Hussein told LBCI television on Thursday that the cabinet vote on Lebanon's position concerning a UN resolution to impose sanctions on Iran will not have repercussions on the government's status.
"Despite the political tug-of-war among the forces that make up the cabinet, there is no fear for the cabinet situation," he said.
Abstention=rejection
State Minister Jean Ogassapian told Future News on Thursday that major powers should take into consideration Lebanon's situation regarding sanctions against Iran, referring to the political deadlock in the cabinet that led Lebanon to abstain .
" Lebanon's vote proves it does not affect change . We cannot compare Lebanon to Turkey from the countries' strength's view point. Lebanon's abstention means that the country rejects sanctions on Iran ," Ogassapian said.
"We intended to abstain on Iran's sanction vote because we should not accept the sanctions, nor do we want Lebanon to confront the world," Ogassapian added.