Erdogan: Emerging leader in Muslim world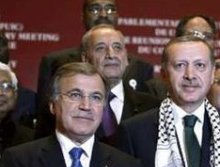 Turkey's prime minister on Thursday strengthened his emerging role as a leader in the Islamic world, basking in the applause of Arab leaders as he unleashed invective against Israel and questioned Washington's dominance at a summit in the one-time seat of the Ottoman Empire.
Recep Tayyip Erdogan's international profile has risen sharply since the Israeli commando raid on aid ships bound for Gaza — with Muslims across the Middle East holding him up as a hero for his tough talk against Israel. His thunderous reception by fellow Muslim leaders appeared to confirm his status as the Middle East's man of the moment.
The Turkish-Arab Economic Forum opened with calls for an international investigation into the May 31 Israeli raid that eight Turkish activists and a Turkish-American teenager.
"Are we going to remain silent over the murder of nine people? We can't turn a blind eye to this banditry in international waters," Erdogan told the forum. "This can't continue as it is."
Arab League chief Amr Moussa also accused Israel of continued "atrocity and assault" in violation of human rights and international law, and praised Turkey for challenging Israel on the raid. Israel insists its commandos acted in self-defense after being attacked by pro-Palestinian activists on the aid ships.
On Thursday, Turkey and 20 Arab nations also issued a joint statement expressing "grave concern and condemnation for the Israeli aggression" on the Gaza-bound aid ships.
Turkey's popularity in the Muslim world has surged as it led the world in condemning Israel for the raid on ships trying to break Israel's blockade of Gaza. Turkey — a non-Arab, predominantly Muslim country — also won favor among Arab allies for objecting to new sanctions against Iran, which the U.N. Security Council passed Wednesday after rejecting an Iranian nuclear fuel swap-deal brokered by Ankara.
Erdogan has for months been drifting away from the West and staking out a claim as a global player — notably working with Brazil on brokering a deal with Iran over its nuclear program.
In an apparent jab at U.S. foreign policy, Erdogan said: "Arms, embargoes and exclusion are not working" — adding that the world was paying a heavy price for such strategies in Iran and Afghanistan.
But on Thursday he also strongly rejected suspicions that he was shifting toward the East and reiterated his nation's commitment to joining the European Union — although he also accused the Europeans of acting in bad faith with a "secret agenda" against Turkey.
"There are those within the European Union who are trying to slow down the negotiating process, those who want to prevent the process. They are trying to curb our enthusiasm," Erdogan said.
"We are aware of their secret agenda, but we carry on (with reforms) nevertheless."
France and Germany are the most prominent European countries seeking to block Turkey's entry into the 27-nation bloc. Opponents say Turkey has not moved fast enough on promised reforms, and Turkey's 1974 occupation of northern Cyprus is a key stumbling block. The Greek-speaking half of the Mediterranean island entered the EU in 2004.
During the forum, Turkey and the Arab countries of Syria, Jordan and Lebanon, said they would set up a council to create "a zone of free movement of goods and persons" among them, and urged others to join what Turkish Foreign Minister Ahmet Davutoglu said should not be seen as an alternative to the European Union.
He said Turkey was still eager to join the EU, but that the bloc "cannot and should not restrict (Turkey's) relations with its neighbors."
Yet in a clear reference to the Ottoman Empire, Davutoglu said "long before the dream of creating the EU existed, we had close trade relations among us in this region."
Lebanon's Prime Minister Saad Hariri said the Middle East was suffering under Israel's "criminal and barbaric" attitude.
"We support Turkey's demands not only about the international investigation, but for Israel to apologize," Egyptian Foreign Minister Ahmed Aboul Gheit said. "We support Turkey's demand to try those behind these acts."
Turkey also says Israel's partial easing of its Gaza blockade was not enough. At another summit in Istanbul earlier this week, Turkey and 21 Asian countries urged Israel to join the nuclear nonproliferation treaty and place its nuclear capabilities under the safeguards of the International Atomic Agency.
Turkey said Israel should not be left out from any scrutiny of its alleged nuclear arsenal, which Israel has never confirmed, and also said Iran should be able to use nuclear energy for peaceful purposes.
Although courting membership in the European Union, Turkey has also strengthened its ties with its Arab neighbors by mediating several conflicts, cultivating new relationships with former rivals such as Syria and Iran, forging free trade zones and gradually lifting mutual visa requirements.
The economic forum, set up in 2007, aims to build on a trade volume that soared to $29 billion last year between Turkey and Arab League countries, from $13 billion in 2004.
Erdogan said direct investments from the Middle East, Gulf and North African countries had reached a total of $8 billion in Turkey over the last five years — a figure that could be improved.
"These figures do not reflect our real potential, and we must work together harder to promote our economic and trade relations," Erdogan said. "We aim to create a free trade area with Arab countries."
Turkey already has free-trade agreements with Egypt, Jordan, Morocco, Syria, Palestinian territories and Tunisia, and is negotiating similar deals with Lebanon and Libya, he said.
Turkey also lifted entry visa requirements for Jordanians, Libyans, Syrians and Lebanese and would like to extend "the free-trade and visa-free zone" to other countries in the region, Erdogan said.