Salameh: Lebanon should cut debt ratio this year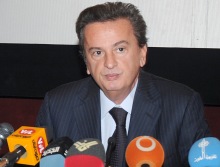 Lebanon's fourth year of strong economic growth should reduce public debt to 139 percent of gross domestic product from about 147 percent, Central Bank Governor Riad Salameh said.
Salameh, speaking in an interview in Beirut today, reiterated that he expects growth of about 8 percent this year.
"Our main focus is going to be on getting the government to reduce" the country's debt, of which 60 percent is held in Lebanese pounds and 40 percent in dollars, he said.
Lebanon's economy weathered the global financial crisis, expanding 9 percent last year and 8.5 percent in 2008. The pegging of the Lebanese pound to the dollar, combined with high interest rates, helped local banks to attract more than $1.5 billion a month from abroad.
To sustain expansion, the country needs to improve infrastructure, and Lebanese banks have enough liquidity to enable private financing for such projects, Salameh said.
Lebanon accumulated its public debt of about $52 billion as it rebuilt the country after a 15-year civil war that ended in 1990 and a month-long conflict with Israel in 2006. Debt reached a peak of 180 percent to GDP at the end of 2006.
Banks kept interest rates on deposits in Lebanese pounds at about 7 percent, while rates elsewhere in the world tumbled. The inflow of funds enabled commercial banks to finance the fiscal deficit, estimated at 10.7 percent of GDP this year, and the central bank to reduce reserve requirements on lending for housing, healthcare, education, environmental projects and start-up businesses.
'Remarkable' Economy
The International Monetary Fund said yesterday that the economy has performed "remarkably well," while noting that public debt as a proportion of GDP remains among the world's highest, and citing challenges including financing the debt and selling or restructuring state-owned companies.
The decline in the debt-to-GDP ratio since 2006 "is a result of economic growth figures, not because of any measures taken by the government to reduce the nominal size of the debt, which has been increasing and is set to increase this year," said Nassib Ghobril, head of research at Byblos Bank SAL in Beirut.
The government needs to lower the fiscal deficit "specifically on the expenditure side, so it can reduce the need to borrow," Ghobril said. "In addition it needs to implement reforms such as privatizing the telecoms sector and restructuring the electricity sector in order to reduce the growth of public debt and also to retire part of it."
Phone Company Sale
Plans to sell two state-owned mobile phone operators, which previous governments had hoped would raise as much as $7 billion, were put on hold because of an 18-month political crisis that eased in May 2008, and later by the global credit crisis and parliamentary elections in June last year. Restructuring the state-owned power company Electricite du Liban, which cost the government $1.5 billion in subsidies last year, has also been delayed.
Salameh said tourism would help the economy grow this year. Foreign visitors to Lebanon will exceed 2 million this year, up from 1.85 million in 2009, Tourism Minister Fady Abboud said in a May 21 interview. Revenue will rise to $8.5 billion from $7.2 billion over the same period, he said.
The dollar's gains against the euro coupled with lower oil prices will help Lebanon, because "70 percent of our inflation is imported," Ghobril said. The dollar is trading near a four- year high against the euro on prospects for a U.S. economic recovery that will outpace Europe, where sovereign-debt concerns continue to weigh on growth.BW